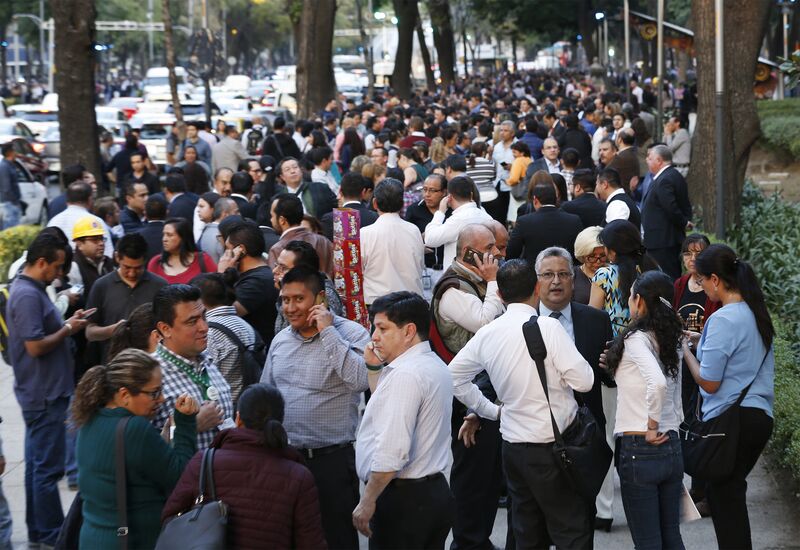 At the first blow of His thundering sword, the mountains and all Nature will tremble in terror, for the disorders and crimes of men have pierced the vault of the heavens. Paris will burn and Marseilles will be engulfed. Several cities will be shaken down and swallowed up by earthquakes.
Our Lady of La Salette 19 Sept. 1846
(Published by Mélanie 1879)
Water and fire will give the earth's globe convulsions and terrible earthquakes which will swallow up mountains, cities, etc...
Our Lady of La Salette 19 Sept. 1846
(Published by Mélanie 1879)
Magnitude-7.2 earthquake slams south, central Mexico
MEXICO CITY (AP) — A powerful magnitude-7.2 earthquake shook south and central Mexico Friday, causing people to flee swaying buildings and office towers in the country's capital, where residents were still jittery after a deadly quake five months ago. Crowds gathered on Mexico City's central Reforma Avenue as well as on streets in Oaxaca state's capital, nearer the quake's epicenter, which was in a rural area close to Mexico's Pacific coast and the border with Guerrero state. There were no immediate reports of deaths. "It was awful," said Mercedes Rojas Huerta, 57, who was sitting on a bench outside her home in Mexico City's trendy Condesa district, too frightened to go back inside. "It started to shake; the cars were going here and there. What do I do?" She said she was still scared thinking of the Sept. 19 earthquake that caused 228 deaths in the capital and 141 more in nearby states. Many buildings in Mexico City are still damaged from that quake.
Source
MARIA OF THE CROSS,
Victim of Jesus nee MELANIE CALVAT,
Shepherdess of La Salette
"I protest highly against a different text, which people may dare publish after my death. I protest once more against the very false statements of all those who dare say and write First that I embroidered the Secret; second, against those who state that the Queen Mother did not say to transmit the Secret to all her people." Melanie