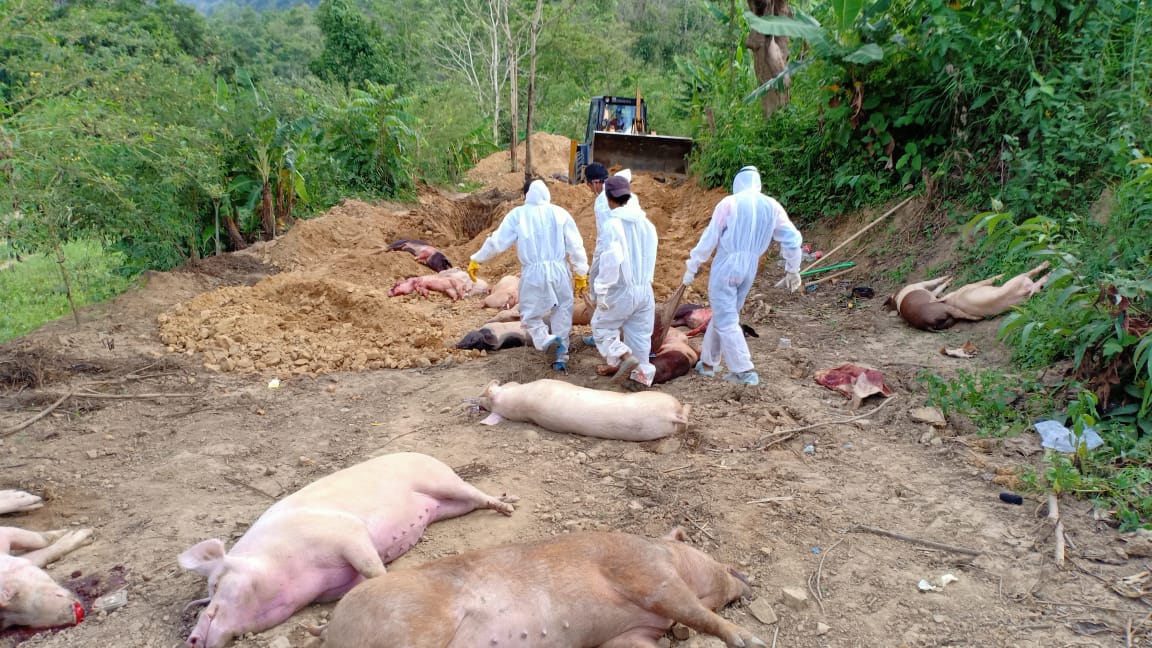 "There will be bloody wars and famines, plagues and infectious diseases. It will rain with a fearful hail of animals.
Our Lady of La Salette 19 Sept. 1846
(Published by Mélanie 1879)
"The earth will be struck by calamities of all kinds (in addition to plague and famine which will be wide-spread).
Our Lady of La Salette 19 Sept. 1846
(Published by Mélanie 1879)
"God will strike in an unprecedented way.
Our Lady of La Salette 19 Sept. 1846
(Published by Mélanie 1879)
"Woe to the inhabitants of the earth! God will exhaust His wrath upon them and no one will be able to escape so many afflictions together.
Our Lady of La Salette 19 Sept. 1846
(Published by Mélanie 1879)
"The Society of men is on the eve of the most terrible scourges and of gravest events. Mankind must expect to be ruled with an iron rod and to drink from the chalice of the wrath of God.
Our Lady of La Salette 19 Sept. 1846
(Published by Mélanie 1879)
African Swine Fever Spreads Like Wildfire in Indian State of Mizoram
Health Officials in Kween District in Eastern Mizoram in northeastern India borders three other states, Assam, Manipur, and Tripura, in addition to two countries, Bangladesh and Myanmar. African Swine Flu is a deadly, highly contagious viral disease that is believed to affect both domestic and feral swine alike. No vaccine is available so far. African Swine Fever (ASF) has wreaked havoc in India's northeastern state of Mizoram, killing nearly 5,000 pigs and piglets over a period of two months. The state has already been under lockdown since 10 May, with the government extending curbs to control the transmission of the deadly coronavirus. People in Mizoram are known for their diet, which is rich in pork, chicken and beef; local cuisine is well-known for its smoked meat. It's the first instance of African Swine Fever in the state and government authorities are investigating how the disease spread there. The outbreak has caused a loss of over $2.7 million US to farmers, the state government has stated. Dr. Lalhmingthanga, Joint Director at the Animal Husbandry and Veterinary Science Department, said the first death of a pig was reported on 21 March at Lungsen village in south Mizoram's Lunglei District, which borders Bangladesh. A month later, the disease spread to nine of the state's 11 districts, with just two districts free of the disease as of now. The State's Animal Husbandry and Veterinary Minister Dr. K. Beichhua said it is investigating if the African Swine Fever had spread through illegally imported pigs. The government has banned the import of pigs and pig products from other States and foreign countries since last year. Meanwhile, the government has declared 91 villages and neighbourhoods in the affected districts 'infected areas", with Aizawl District being the worst impacted, as its 55 localities are infected. There are over 32,000 live pigs in the infected zones and efforts are underway to save these, according to government officials. Mizoram State Chief Zoramthanga has said that the piggery farmers and the economic stance are at stake.
Source
PROPHECY OF MELANIE ON TWO POPES:
"I didn't see, I don't see any Great Pope or Great Monarch before an extremely great tribulation, horrifying, terrible and general for all Christendom. But before that time, twice there will be a short lived peace;
TWO
shaky, servile, doubtful popes"
Mélanie

REMEMBER - THE 35+ YEARS WORTH OF CHASTISEMENTS DO NOT START UNTIL THE TWO POPES ARE DEAD......
"The great chastisement will come, because men will not be converted; yet it is only their conversion that can hinder these scourges. God will begin to strike men by inflicting lighter punishments in order to open their eyes; then He will stop, or may repeat His former warnings to give place for repentance. But sinners will not avail themselves of these opportunities; He will, in consequence, send more severe castigations, anxious to move sinners to repentance, but all in vain. Finally, the obduracy of sinners shall draw upon their heads the greatest and most terrible calamities. Mélanie
"We are all guilty! Penance is not done, and sin increases daily. Those who should come forward to do good are retained by fear. Evil is great. A moderate punishment serves only to irritate the spirits, because they view all things with human eyes. God could work a miracle to convert and change the aspect of the earth without chastisement. God will work a miracle; it will be a stroke of His mercy; but after the wicked shall have inebriated themselves with blood, the scourge shall arrive Mélanie
"What countries shall be preserved from such calamities? Where shall we go for refuge? I, in my turn, shall ask, What is the country that observes the commandments of God? What country is not influenced by human fear where the interest of the Church and the glory of God are at stake? (Ah, indeed! What country, what nation upon earth?) In behalf of my Superior and myself, I have often asked myself where we could go for refuge, had we the means for the journey and for our subsistence, on condition that no person were to know it? But I renounce these useless thoughts. We are very guilty! In consequence of this, it is necessary that a very great and terrible scourge should come to revive our faith, and to restore to us our very reason, which we have almost entirely lost. Mélanie
MARIA OF THE CROSS,
Victim of Jesus nee MELANIE CALVAT,
Shepherdess of La Salette
"I protest highly against a different text, which people may dare publish after my death. I protest once more against the very false statements of all those who dare say and write First that I embroidered the Secret; second, against those who state that the Queen Mother did not say to transmit the Secret to all her people." Mélanie