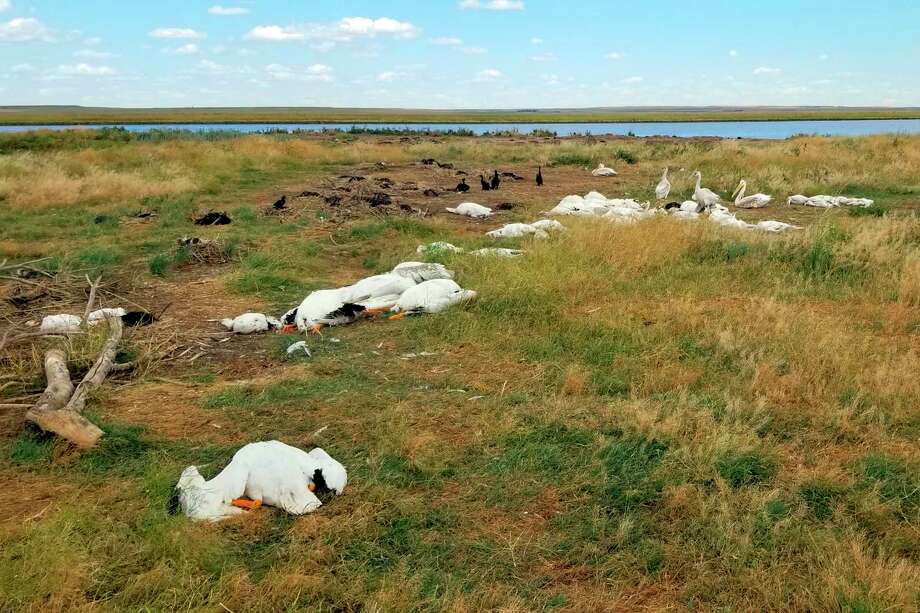 It will rain with a fearful hail of animals. There will be thunderstorms which will shake cities, earthquakes which will swallow up countries. Voices will be heard in the air. Men will beat their heads against walls, call for their death, and on another side death will be their torment. Blood will flow on all sides.
Our Lady of La Salette 19 Sept. 1846
(Published by Mélanie 1879)
Montana hailstorm slaughters 11,000 birds
Thousands of birds were killed on Aug. 11 when a destructive hailstorm lashed regions northwest of Billings, Montana. According to Montana Fish, Wildlife, and Parks, the supercell thunderstorm "killed and maimed more than 11,000 waterfowl and wetland birds at the Big Lake Wildlife Management Area west of Molt." Molt is about 20 miles west-northwest of Billings, Montana's largest city. According to the release, biologist Justin Paugh estimates that roughly a quarter of the birds at the lake were injured or killed. About 5% of surviving ducks and a third of living pelicans/cormorants "show some sign of injury or impaired movement." The Storm Prediction Center had already been calling for potential large, damaging hail as early as 12 hours in advance, outlining Billings in a narrow corridor of "significant severe" potential. Their morning bulletin advised that volatile atmospheric parameters would "favor supercells initially with large hail and possibly a couple of tornadoes." By late afternoon, storms had developed, quickly becoming severe. Some storms towered to nearly 10 miles high. The National Weather Service issued a severe thunderstorm warning for Molt at 6:27 p.m., alerting of the potential for golf ball-sized hail and damaging wind gusts in excess of 60 mph. The storm proved to be an overachiever, bringing an unusual August episode of three-inch hail and winds gusting up to 74 mph. "This isn't uncommon for us, but it normally happens in June," explained Shawn Palmquist, a meteorologist at the National Weather Service in Billings. "June is when we have lower freezing levels and can get hail. August is typically more a wind month."
Source
"The great chastisement will come, because men will not be converted; yet it is only their conversion that can hinder these scourges. God will begin to strike men by inflicting lighter punishments in order to open their eyes; then He will stop, or may repeat His former warnings to give place for repentance. But sinners will not avail themselves of these opportunities; He will, in consequence, send more severe castigations, anxious to move sinners to repentance, but all in vain. Finally, the obduracy of sinners shall draw upon their heads the greatest and most terrible calamities.
Mélanie
"We are all guilty! Penance is not done, and sin increases daily. Those who should come forward to do good are retained by fear. Evil is great. A moderate punishment serves only to irritate the spirits, because they view all things with human eyes. God could work a miracle to convert and change the aspect of the earth without chastisement. God will work a miracle; it will be a stroke of His mercy; but after the wicked shall have inebriated themselves with blood, the scourge shall arrive
Mélanie
"What countries shall be preserved from such calamities? Where shall we go for refuge? I, in my turn, shall ask, What is the country that observes the commandments of God? What country is not influenced by human fear where the interest of the Church and the glory of God are at stake? (Ah, indeed! What country, what nation upon earth?) In behalf of my Superior and myself, I have often asked myself where we could go for refuge, had we the means for the journey and for our subsistence, on condition that no person were to know it? But I renounce these useless thoughts. We are very guilty! In consequence of this, it is necessary that a very great and terrible scourge should come to revive our faith, and to restore to us our very reason, which we have almost entirely lost.
Mélanie
MARIA OF THE CROSS,
Victim of Jesus nee MELANIE CALVAT,
Shepherdess of La Salette
"I protest highly against a different text, which people may dare publish after my death. I protest once more against the very false statements of all those who dare say and write First that I embroidered the Secret; second, against those who state that the Queen Mother did not say to transmit the Secret to all her people."
Mélanie