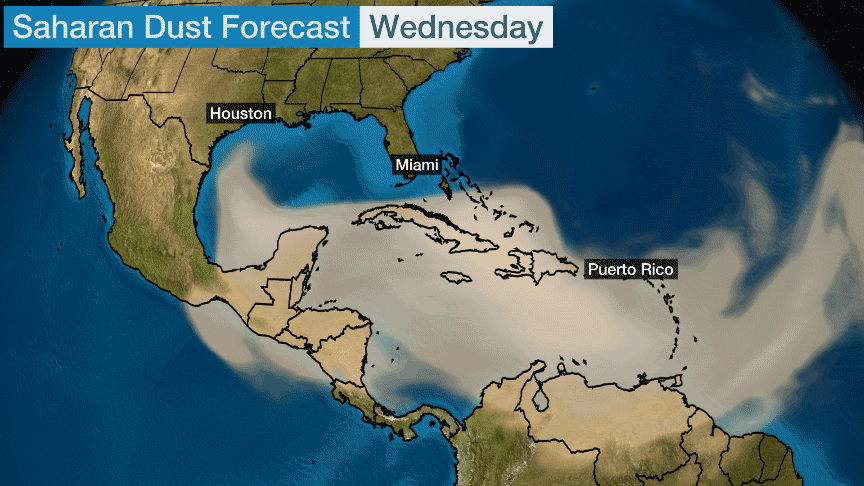 Here's how the Pope Francis DOOM Novena works:
1. Natural or man-made disaster hits somewhere in the world
2. Pope Francis prays for the victims of the said disaster
3. Within nine days another disaster hits somewhere else
4. Repeat
Recent Pope Francis DOOM Novena in real time
1. Pope Francis just prayed for the victims in the Mexico earthquake see here
2. Massive Sahara Desert Dust Plume should hit the US and Mexico with Nine days......
Massive Sahara desert dust plume drifting toward the United States
A massive plume of dust from the Sahara desert in northern Africa has been traversing the atmosphere, thousands of feet above the tropical Atlantic Ocean, and is now cloaking the Caribbean and closing in on the southeastern United States.
While summer dust plumes are a common occurrence, this appears to be one of the most extreme in recent memory. It's so large it has been nicknamed the Gorilla Dust Cloud.
"This is the most significant event in the past 50 years. Conditions are dangerous in many Caribbean islands," Pablo Méndez Lázaro, from the University of Puerto Rico's School of Public Health, told the Associated Press.
On satellite images from space, dust typically appears somewhat subtle and faint, but this plume can be seen as clear as day. The picture below was taken on Sunday from the International Space Station. "We flew over this Saharan dust plume today in the west central Atlantic. Amazing how large an area it covers!" astronaut Doug Hurley tweeted.
These plumes of Saharan dust, termed Saharan Air Layer (SAL) by meteorologists, are whipped up by strong wind storms crossing the Sahara desert. The dust enters the Atlantic Ocean near the Cape Verde islands, inside the Intertropical Convergence Zone where tropical systems often get their start.
NOAA's GOES satellite captured this series of animating images on Friday as the dust entered the deep tropical Atlantic from Africa.
— CIRA (@CIRA_CSU) June 19, 2020
The dust hitches a ride along the trade winds, a belt of east-to-west moving winds near the equator which become firmly established during summertime. The dust layer can extend from a few thousand feet above the surface to 20,000 feet up.
While the dust masses often stay generally intact during most of the trans-Atlantic journey, they typically become diffuse and diluted by the time they reach the Caribbean. However, so far, this particular dust layer is defying the odds.
Source
PROPHECY OF MELANIE ON TWO POPES:
"I didn't see, I don't see any Great Pope or Great Monarch before an extremely great tribulation, horrifying, terrible and general for all Christendom. But before that time, twice there will be a short lived peace; TWO shaky, servile, doubtful popes" Mélanie
Mélanie
"We are all guilty! Penance is not done, and sin increases daily. Those who should come forward to do good are retained by fear. Evil is great. A moderate punishment serves only to irritate the spirits, because they view all things with human eyes. God could work a miracle to convert and change the aspect of the earth without chastisement. God will work a miracle; it will be a stroke of His mercy; but after the wicked shall have inebriated themselves with blood, the scourge shall arrive Mélanie
"What countries shall be preserved from such calamities? Where shall we go for refuge? I, in my turn, shall ask, What is the country that observes the commandments of God? What country is not influenced by human fear where the interest of the Church and the glory of God are at stake? (Ah, indeed! What country, what nation upon earth?) In behalf of my Superior and myself, I have often asked myself where we could go for refuge, had we the means for the journey and for our subsistence, on condition that no person were to know it? But I renounce these useless thoughts. We are very guilty! In consequence of this, it is necessary that a very great and terrible scourge should come to revive our faith, and to restore to us our very reason, which we have almost entirely lost. Mélanie
MARIA OF THE CROSS,
Victim of Jesus nee MELANIE CALVAT,
Shepherdess of La Salette
"I protest highly against a different text, which people may dare publish after my death. I protest once more against the very false statements of all those who dare say and write First that I embroidered the Secret; second, against those who state that the Queen Mother did not say to transmit the Secret to all her people." Mélanie