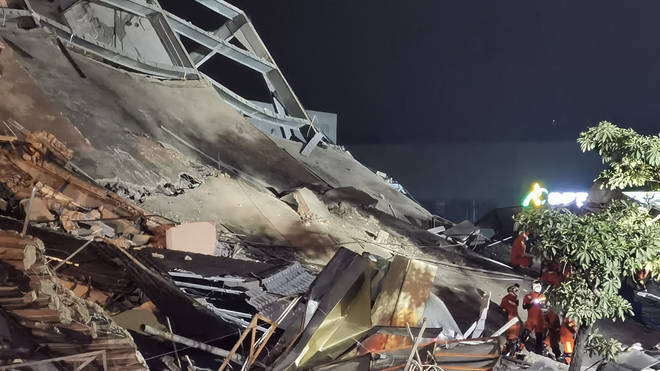 There will be bloody wars and famines, plagues and infectious diseases
.Our Lady of La Salette 19 Sept. 1846
(Published by Mélanie 1879)
"The earth will be struck by calamities of all kinds (in addition to plague and famine which will be wide-spread).
Our Lady of La Salette 19 Sept. 1846
(Published by Mélanie 1879)
At the first blow of His thundering sword, the mountains and all Nature will tremble in terror, for the disorders and crimes of men have pierced the vault of the heavens. Paris will burn and Marseilles will be engulfed. Several cities will be shaken down and swallowed up by earthquakes.
Our Lady of La Salette 19 Sept. 1846
(Published by Mélanie 1879)
Water and fire will give the earth's globe convulsions and terrible earthquakes which will swallow up mountains, cities, etc...
Our Lady of La Salette 19 Sept. 1846
(Published by Mélanie 1879)
God will abandon mankind to itself and will send punishments which will follow one after the other for more than thirty-five years.
Our Lady of La Salette 19 Sept. 1846
(Published by Mélanie 1879)
Following up Earthquake Post from 17 February 2020:
WUHAN READY FOR AN EARTHQUAKE TO HELP COMPLETE THE PICTURE?
Granted its not an Earthquake just a badly built Chinese Hotel.....
Hotel in China holding coronavirus victims in quarantine collapses as emergency service scramble to reach 70 trapped in the rubble
Around 70 people were trapped after a hotel collapsed in China's eastern Fujian province on Saturday evening, officials said. Xinjia Hotel in Quanzhou City collapsed around 7.30 pm (11:30 GMT) and at least 23 people had been rescued by 9pm, according to a local government statement. The 80-room hotel was recently converted to a quarantine facility for people who had recent contact with coronavirus patients, the People's Daily state newspaper reported. Footage has captured rescuers searching for injured people after the hotel collapsed overhead. The horrific aftermath, which was caught on camera, shows the hotel levelling to the ground as rescue workers battled on. No reason for the collapse was given. State news agency Xinhua said rescue efforts were ongoing. China, where the new virus first emerged in December, has confirmed more than 80,000 cases, by far the most in the world. China reported 99 new cases on Saturday, its first daily increase of less than 100 since Jan. 20. The government reported 28 new fatalities, raising the mainland death toll to 3,070.
Source
"The great chastisement will come, because men will not be converted; yet it is only their conversion that can hinder these scourges. God will begin to strike men by inflicting lighter punishments in order to open their eyes; then He will stop, or may repeat His former warnings to give place for repentance. But sinners will not avail themselves of these opportunities; He will, in consequence, send more severe castigations, anxious to move sinners to repentance, but all in vain. Finally, the obduracy of sinners shall draw upon their heads the greatest and most terrible calamities. Mélanie
"We are all guilty! Penance is not done, and sin increases daily. Those who should come forward to do good are retained by fear. Evil is great. A moderate punishment serves only to irritate the spirits, because they view all things with human eyes. God could work a miracle to convert and change the aspect of the earth without chastisement. God will work a miracle; it will be a stroke of His mercy; but after the wicked shall have inebriated themselves with blood, the scourge shall arrive Mélanie
"What countries shall be preserved from such calamities? Where shall we go for refuge? I, in my turn, shall ask, What is the country that observes the commandments of God? What country is not influenced by human fear where the interest of the Church and the glory of God are at stake? (Ah, indeed! What country, what nation upon earth?) In behalf of my Superior and myself, I have often asked myself where we could go for refuge, had we the means for the journey and for our subsistence, on condition that no person were to know it? But I renounce these useless thoughts. We are very guilty! In consequence of this, it is necessary that a very great and terrible scourge should come to revive our faith, and to restore to us our very reason, which we have almost entirely lost. Mélanie
MARIA OF THE CROSS,
Victim of Jesus nee MELANIE CALVAT,
Shepherdess of La Salette
"I protest highly against a different text, which people may dare publish after my death. I protest once more against the very false statements of all those who dare say and write First that I embroidered the Secret; second, against those who state that the Queen Mother did not say to transmit the Secret to all her people."
Mélanie