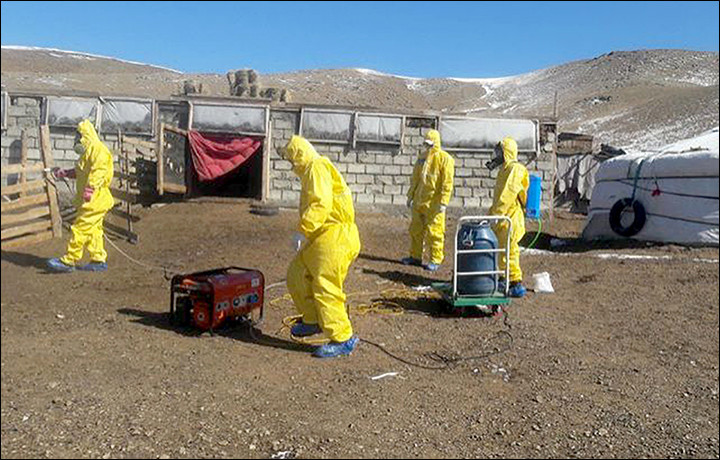 There will be bloody wars and famines, plagues and infectious diseases.
Our Lady of La Salette 19 Sept. 1846
(Published by Mélanie 1879)
The earth will be struck by calamities of all kinds (in addition to plague and famine which will be wide-spread).
Our Lady of La Salette 19 Sept. 1846
(Published by Mélanie 1879)
BUBONIC PLAGUE scare puts Mongolia on high alert
Mongolia is gripped by fears of a pandemic after two Russian tourists died of a highly contagious disease, suspected by authorities to be the Bubonic Plague, also known as the Black Death.
Medical personnel donned hazmat suits and boarded a flight landing in Mongolia's capital of Ulaanbaatar to intercept passengers who came from the affected region. Eleven passengers were put under "indefinite quarantine" at a nearby hospital.
"Preliminary test results show that bubonic plague likely caused the deaths of the two people," said Mongolia's National Emergency Management Agency. "The province's office has declared an indefinite quarantine" in the Bayan-Ulgii province.
Authorities believe the tourists, a husband and wife visiting from Siberia, were infected after eating contaminated wild game, and estimate the couple came in contact with some 158 people before they died. They, too, have been placed into quarantine.
The male tourist, named in reports only as 'Citizen T,' succumbed to extreme illness on April 27, while his pregnant wife passed away three days later.
The likely source of the disease? Marmots. Marmots are known to carry one of the deadliest forms of the plague bacterium, thought to spread to humans either by parasitic fleas or by consumption of the animal's meat.
"Despite the fact that eating marmots is banned, Citizen T hunted marmot," said Dr. N. Tsogbadrakh, director of the National Center for Zoonotic Dermatology and Medicine. "He ate the meat and gave it to his wife, and they died."
Source